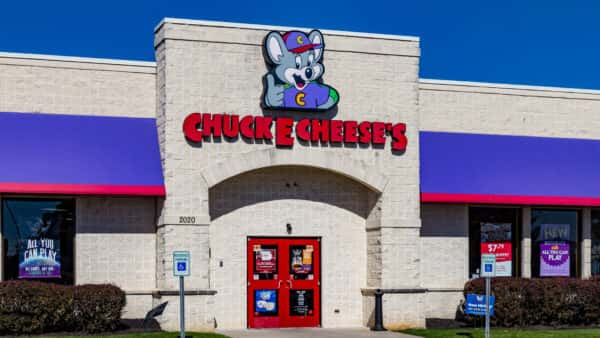 Chuck E. Cheese Selling Pizza Under Different Name on Grubhub
The public has took notice of something suspicious with Chuck E. Cheese after they listed services on delivery apps like Grubbhub under a new name "Pasqually's Pizza and Wings." the address match up and it's left people a little confused.
We see you @ChuckECheese https://t.co/GqohS0uPAP

— DJ Eric B (@djericbmix) May 19, 2020
The company claims they recently launched the brand and it's meant to be a premium pizza that's much different than their traditional kid-friendly pizzas.
CEC adds, "Pasqually's Pizza & Wings' recipes use fresh, homemade pizza dough, just like Chuck E. Cheese, but it is a different pizza that features a thicker crust and extra sauce, giving consumers a more flavorful, more premium pizza experience. While Pasqually's Pizza & Wings recipes are currently only available for delivery, select items might be added to the Chuck E. Cheese menu in the future."
This new venture has a lot of people talking.
Chuck E Cheese is selling their food as "Pasqually's Pizza" on food apps because no one wants to order Chuck E. Cheese pizza for delivery and I think this is nominated as the funniest part of this pandemic

— Michael Mark (@mrcoolmike_) May 18, 2020
nobody wanted take out from Chuck E. Cheese, so they changed their name to Pasqually's on GrubHub, put a fake sign on their windows, and now they're trying to pass it off as (bad) marketing for a new restaurant launch.
THIS. IS. HILARIOUS.https://t.co/avRTJueY0E

— Red Bard (Kennedy) (@RedBardIsCool) May 18, 2020
Chuck E. Cheese should have a delivery option where the animatronic bear band brings you the pizza.

— Alex Hooper (@HooperHairPuff) May 16, 2020
The one and only time my family went to Chuck E Cheese we all got sick from the pizza except for me because I didn't eat any of it. #grubhub pic.twitter.com/tyqvvM90kv

— Michael The Bad Bitch (@MichaelBringTea) May 18, 2020
a google employee retweeted me so now im getting ppl in my mentions with like "brand manager" in their profile talking about how the pizza sold at pasqually pizza is actually different than chuck e cheese pizza despite being made at chuck e cheese by chuck e cheese employees

— Paul E Cheese (@paulbensonsucks) May 18, 2020
Leave it to Chuck E. Cheese to catfish people with their Pizza! This is why people have trust issues.