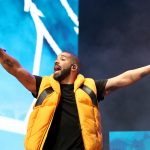 Drake is out here creating a lot of smiles in Miami
The Miami Herald reports that Drake gave $25,000 to Miami Senior High School after performing in a crane above the school's baseball field while shooting a video for his new hit record 'Gods Plan'
DRAKE SHOOTING GODS PLAN MUSIC VIDEO AT MIAMI HIGH, LIFES CRAZY MAN @OfficialJoelF @Drake @miamiseniorhigh pic.twitter.com/6ohD8bipNh

— Edgar (@TheRealEdgy) February 5, 2018
After that, The Miami Hurricane reports, he went to the University of Miami and granted a $50,000 scholarship to a student.
He then visited the University of Miami where he donated a $50K scholarship to a random student who just so happened to be Destiny James of Denmark, South Carolina #GodsPlan pic.twitter.com/4nZiQQEnlD

— ment nelson (@mentnelson) February 6, 2018
Drake didn't stop there. He also visited a Miami supermarket where he jumped on the intercom and told all of the shoppers he would buy all of their groceries, according to E! News, coming to a total of $50,000.
Finally, he gave another $50,000 away to the city's Lotus House Women's Shelter
Why is Drake donating so much money in Miami? It may be part of 'God's Plan'