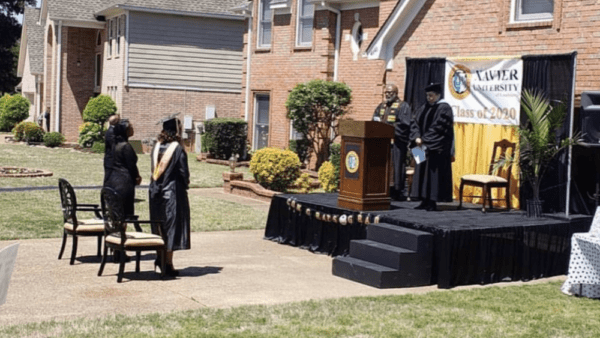 Tennessee Dad Builds A Stage In His Driveway To Throw His Daughter A Graduation Ceremony
College cancelled graduation so this dad took matters into his own hands and built his daughter a stage so he could give her a proper send off.
Torrence Burson decided to throw his daughter her own personal graduation ceremony in the front yard of their Memphis home, complete with a stage to walk across, a podium for speeches and a supporting audience in the street.
SHOUTOUT TO THIS MEMPHIS XAVERITE!
This Xaverite from Memphis couldn't walk across the stage this past weekend due to the pandemic. Her dad built the graduation stage in the driveway of their Southeast MEMPHIS home. CONGRATULATIONS YOUNG LADY!
From a Xaverite to another! pic.twitter.com/7THflS8XX3

— Jeremy Pierre FOX13 (@JeremypierreFOX) May 11, 2020
Torrence Burson  wen't on to say "We love our daughter this much, regardless of the dollar figure, what it took to pull this off and If I had to do this over again, I'd probably do it even bigger."
Congrats to Pierce and shout out to her dad for going above and beyond to make his daughter feel special!