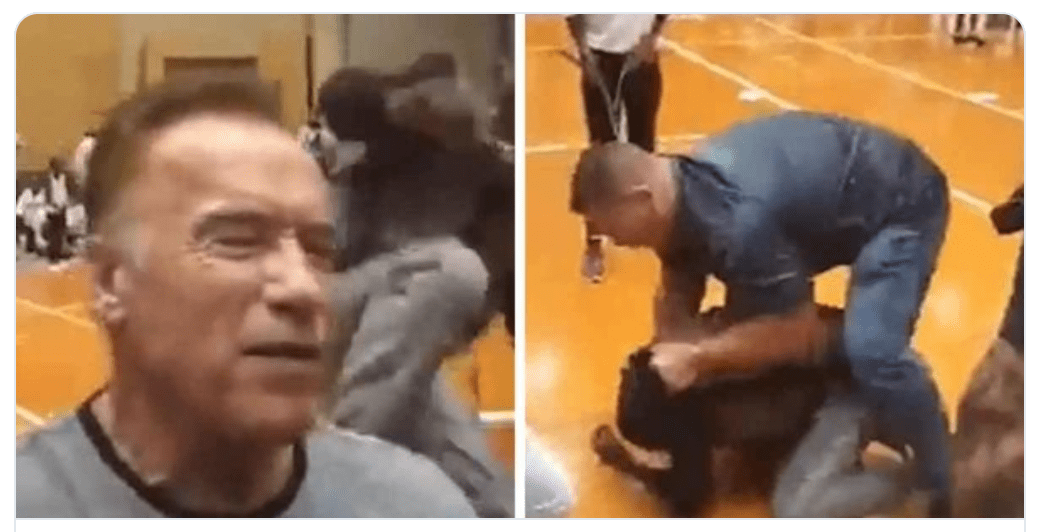 Some brave soul idiot tried to sneak Arnold Schwarzenegger with a drop kick during his charity event in South Africa.
Watch multiple angles below:
arnold schwarzenegger in South Africa

So this one idiot ruined the fun
Why would he kick him like that pic.twitter.com/mKAkQIuSHc

— T U M E L O (@FaithLephoro) May 18, 2019
Apparently in South Africa they believe the Terminator is real! Arnold Schwarzenegger got DROP KICKED! pic.twitter.com/QJaUNG0wVl

— KEEM (@KEEMSTAR) May 18, 2019
As you see, Arnold barely moves! He may ACTUALLY be The Terminator (T-800). His reaction is more of "WHO THREW THAT PEBBLE?!"
Arnold tweeted:
Thanks for your concerns, but there is nothing to worry about. I thought I was just jostled by the crowd, which happens a lot. I only realized I was kicked when I saw the video like all of you. I'm just glad the idiot didn't interrupt my Snapchat.

— Arnold (@Schwarzenegger) May 18, 2019
Safe to say, he's ok and no worries South Africa, he'll be back.
Do me a favor: instead of sharing the video of the guy who wants to be famous, watch some of our @ArnoldSports athletes like this young hero proving that fitness is for everyone who deserve to be famous. They're on my Snapchat. pic.twitter.com/EuMynJ7t1n

— Arnold (@Schwarzenegger) May 18, 2019