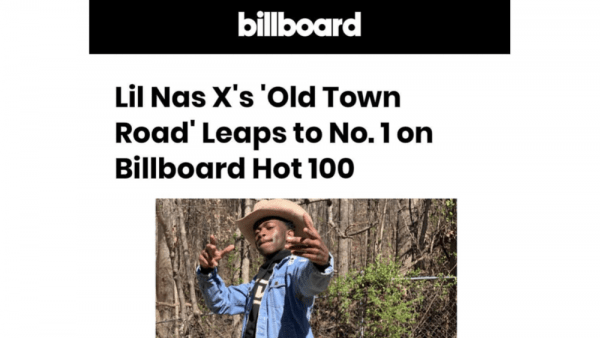 Who needs the country charts when you can top the Billboard 100?
After six weeks on the Hot 100 Billboard chart, Lil Nas X has the number song in the country. Moving from #15 to #1
This marks the first artist unaccompanied by another act to top the Hot 100 on a first try since Cardi B, whose "Bodak Yellow" spent three weeks at No. 1 in October 2017,"
View this post on Instagram
"Old Town Road," which mixes elements of country and hip-hop, initially landed on both the country and rap charts in March, but Billboard removed the song from the country chart because they claim that it did not fit the current sound of the genre. This started a debate about genre restrictions and race.
This is what Billy Ray Cyrus had to say about that
It was so obvious to me after hearing the song just one time. I was thinking, what's not country about it? What's the rudimentary element of a country and western song? Then I thought, it's honest, humble, and has an infectious hook,  and a banjo.  What the hell more do ya need?

— Billy Ray Cyrus (@billyraycyrus) April 5, 2019
Then Billy jumped on the remix
Old Town Road…. the remix out now!  @lilnasx pic.twitter.com/s0emFSzkHl

— Billy Ray Cyrus (@billyraycyrus) April 5, 2019
You can listen to the complete Old Town Road Remix below