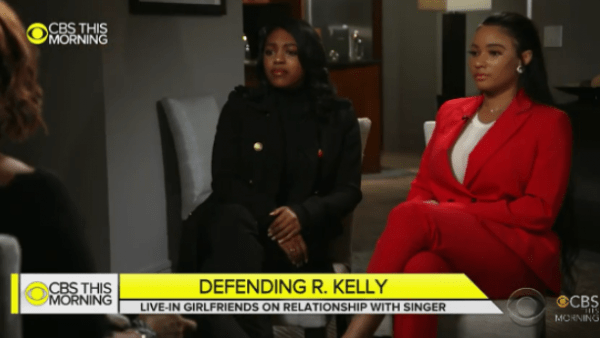 While R. Kelly is back in jail for not paying 160k in child support, his two live-in girlfriends defended Kelly in another interview with Gayle King.
The two women who live with R. Kelly are defending him and their relationship with him. Azriel Clary, 21, and Joycelyn Savage, 23, told @GayleKing they love Kelly even though their families claim he has brainwashed them. https://t.co/7XhwSR4vD7 pic.twitter.com/B93mv0JBBM

— CBS This Morning (@CBSThisMorning) March 7, 2019

Gayle King asked the women if their parents should be concerned for their wellbeing
Should your parents be concerned? — @GayleKing

"No. No." — Azriel Clary

Why?

"Well, my parents knew where I have always been. For four years, they have known. They know that I've been well taken care of." https://t.co/tDUt6ssRu1 pic.twitter.com/hTDAIwlBrw

— CBS This Morning (@CBSThisMorning) March 7, 2019

CBS also revealed that R. Kelly was in the room as the women were being interviewed, even though he'd promised not to be in the same room for their portion.
According to @gayleking, R. Kelly stood off-camera while his two girlfriends defended him in this interview, interjecting with coughs and attempts to cut off the conversation. https://t.co/n5z1Og4p9M

— Marina Fang (@marinafang) March 7, 2019
Photo Credit: PRPhotos.com