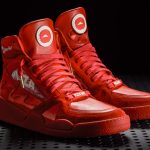 You can order Pizza and pause live TV with these kicks!!
Are you an avid shoe collector? If you said yes, you're going to want to add these to your collection, that's if you can get your hands on some..  If you don't remember the first launch last year. Watch the video below for a refresher.
Those are dope right?
According to Solecollector.com "A sequel to last year's Pie Top model, this new pair comes equipped with a button on the tongue to order pizza. A new addition to this year's pairs is a button on the other tongue that lets you pause live TV while you go grab your pizza delivery at the front door. Like the original Pie Top, the shoes pair with a special app on the wearer's smartphone to complete these special commands, and was designed by sneaker customizer The Shoe Surgeon. "
There will only be a limited run for these amazing kicks. 50 pair to be exact. The Pie Top IIs will be releasing through an exclusive giveaway with Hypebeast the week of March 19.  Good luck to anyone trying to land these unique kicks..